Other Customers
Have Also Viewed:
HEIM HME SERIES BEARINGS





Part # HME-4M
Reference Chart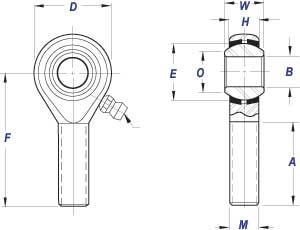 Outer Member: Aircraft quality carbon steel, magnetic particle inspected, with protective coating for corrosion resistance.
Ball: 52100 Alloy Steel, heat treated, chrome plated.
Race: Aluminum.
Liner: Self lubricating UNIFLON®.
The letter "L" indicates Left Hand thread.
Attention: Subject to price & availability of Heim brand bearings, equivalent bearings may be furnished.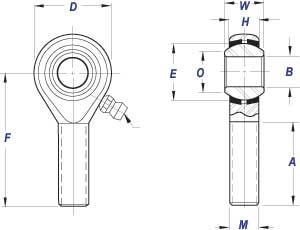 | OEM PN | B | W | H | D | F | A | Thread Size | E | O |
| --- | --- | --- | --- | --- | --- | --- | --- | --- | --- |
| HME-4M | Right Hand | .2500 | .375 | .281 | .750 | 1.562 | 1.000 | .2500-28 | .515 |
| HMLE-5M | Left Hand | .3125 | .437 | .344 | .875 | 1.875 | 1.250 | .3125-24 | .625 |